7 Best Essential Oils For Wrinkles And Naturally Youthful Skin

This article was updated on:
Sat, Jan 09, 21
There are many options when it comes to natural wrinkles treatments. Essential oils are one of the most powerful thanks to flowers' healing properties when it comes in such a concentrated form like an essential oil.

According to our research, the best essential oils for wrinkles that you can find today are frankincense, ylang-ylang, lavender, palmarosa, rose geranium, chamomile roman, and rosemary. Please keep reading to discover why and what is the best way to use them.

List of Best Essential Oils For Wrinkles

How to Use Essential Oils For Skin?

Best Carrier Oils to Use for Wrinkles

Precautions When Using Essential Oils


Blog Readers Bonus: Superfood Oil Serum




Additional FAQ

Conclusion & References

List of Best Essential Oil for Wrinkles

1. Frankincense essential oil - best for oily/combined skin

Frankincense (or olibanum) comes from the Boswellia tree's resin, which is mainly growing in India, Africa, and the Middle East. This super oil is used to regenerate new cells, prevent skin discoloration, and reduce the appearance of wrinkles.

And besides its wrinkle-reducing superpowers, frankincense oil is also well known for reducing inflammation and preventing acne. Therefor is an excellent choice for oily or combination skin.

2. Ylang-Ylang essential oil - best for all skin types

Let's start with the name; if pronounced right, it should sound like ilang-ilang. It's derived from the canaga tree, native to Indonesia, Malaysia and the Philippines

There is a beautiful legend about a young Filipino girl, whom the gods named Ylang and restricted that no one ever touches her. Once she grew older, she fell madly in love with a young man. The love was so strong that she eventually accepted flowers from him and accidentally touched his fingers. The spell was triggered, transforming her into a tree bearing a beautiful flower - Ylang Ylang.

There three main benefits of this oil are anti-aging, balancing, and purifying. It has antioxidant and free radical scavenging properties to promote skin cell renewal and reduce free radicals' harmful effects.

3. Lavender essential oil - best for brightening, all skin types

Everyone knows lavender. It's calming scent used widely used across the beauty industry.

As for the anti-aging properties, lavender oil is full of antioxidants, which help protect your skin from the free radicals and prevent wrinkles.

But not many know that lavender is also can reduce discoloration, including dark spots and hyperpigmentation.

Mix a couple of drops with coconut oil, and you have a daily moisturizer ready to go.
4. Palmarosa essential oil for wrinkles - best for special conditions

Palmarosa is a type of geranium - a tropical grass native to India and Turkey. Turks gave the name "palmarosa" to the plant because of its fragrance, similar to rose oil.

This plant oil has many therapeutic uses. Palmarosa oil is used to treat skin problems like eczema and psoriasis, as well as boils, abscesses, and acne.

For anti-aging purposes, it's mainly useful because of its hydrating properties that will help prevent early signs of aging, dehydration, and inflammation.
5. Rose geranium essential oil - best for skin balancing, all skin types.

Rose geranium oil is derived from Pelargonium graveolens, a plant species native to South Africa, but is grown in many regions, including Europe and Asia.

There are many varieties of this pink flower with a fresh, floral fragrance. Each variety differs in scent, but very similar in properties and composition.

It has antibacterial, antimicrobial, and antiseptic properties like many other oils and beneficial for reducing acne breakouts, irritations, and infections.

As for anti-aging properties, it has the power to minimize the wrinkles' appearance because it tightens facial skin and slows down the effects of aging.
6. Chamomile Roman essential oil - best for soothing, all skin types

Well-known for its anti-inflammatory and calming properties, it helps to soothe your skin and heal any skin conditions, whether it's rosacea, eczema, irritation, or acne.
7. Rosemary essential oil - best for blemishes, all skin types

You are probably familiar with this one from your kitchen. This herb brings a lovely aroma almost to any dish, has a fresh, herbaceous scent.

It is derived from the rosemary bush's leaves, which is native to the Mediterranean region.

It's also well-known for its medical properties. It may improve brain function, reduce stress, and boost the immune system.

If used for skin, it particularly useful in treating acne, supporting aging, and blemish-prone skin, and improving blood circulation. You can use for face and body massage to get some mental clarity and relaxation.
Get free DIY skin recipes collection

How to Use Essential Oils for Skin?

Essential oils are the purest form of oils and can irritate your skin when applied directly. Before you use essential oil to your face, dilute it with a carrier oil. Carrier oils help to reduce the intensity of the essential oils.

Best Carrier Oils to Use for Wrinkles

Selecting a carrier oil depends mainly on purpose and your skin type. Most carrier oils are derived from the seeds or nuts of plants. How fast your skin will absorb it varies based on how light or heavy the carrier oil is.

Some oils can clog pores or may not be desirable for some skin conditions. So if you know that your skin is not ok with some of them, try another option. Here is the list of our favorites carrier oils:

● Jojoba oil
has anti-inflammatory properties, reducing redness caused by drying, improving eczema and rosacea, and keeping skin calm and hydrated. It will be a great choice if you have dry skin.

● Avocado oil
is rich in fatty acids and excellent for retaining skin elasticity. It's a perfect choice for mature skin.

● Olive oil
is very accessible and can be found in any kitchen. Well-known for its moisturizing effect. Be careful if you have enlarged pores since it can clog them if used daily.

● Sweet almond oil
helps to keep your skin healthy and protected from UV radiation damage. It helps to smoothen and soften your skin while retaining moisture. Choose it if you spend many hours under the sunlight or have any existing sun damage or discoloration.

● Seabuckthorn oil
is good for skin hydration, elasticity, and cell regeneration with anti-inflammatory properties to help reduce eczema, psoriasis, and rosacea. It might be an excellent choice for you if you have once of those conditions.

● Chia seed oil
has the perfect balance of Omega 3 to Omega 6. It contains powerful antioxidants and phytonutrients to protect your skin from environmental damage, free radical, and prevent aging skin signs. It's not easy to find and might be quite expensive, but you should give it a try if you come across it.

● Acai berry oil
is the most antioxidant-rich oil that contains vitamin A with powerful anti-aging properties that boost cell renewal. Vitamin C also brightens the skin tone and stimulates collagen production to give your skin a firm, youthful look.

Precautions when Using Essential Oils

Undiluted oils must be used with caution. Most of them will cause skin irritation if applied directly without being mixed with some carrier oil.

Never put oils in your ears, eyes, or nose, and keep them out of children's reach. If oil accidentally got into your eyes, don't flush it with water, use a carrier oil instead to pull it out.

To keep your oil fresh and potent, do not leave the lids off your oil bottles, and keep them out of the direct sun.

Blog Readers Bonus:
Essential Oils VS Superfood Oil Serum

The real power of essential oil comes when it is mixed in a proper ratio with carrier oils.

If you want to experience the powerful effect of essential oil, but don't know how to mix them or feel too much work, you should try some pre-made face oil.

Today almost any plant-based skincare brand will have something like this in a range. Our Superfood Oil is mixed in a way that allows skin rejuvenation but also absorbs fast without leaving any oily feeling on the surface.

And you can find all the oils mentioned above in one bottle appropriately mixed to take care of wrinkles and lines on the face and under-eye areas.

In our formula we have used the following carrier oils: jojoba / avocado / olive oil / sweet almond / seabuckthorn / chia seed / acai berry oil.

And top it up with the following essential oils: frankincense / ylang ylang / lavender / acai fruit / palmarosa / rose geranium / chamomile roman / rose marine.

All mixed together in a effective blend to nourish and treat wrinkles and other age signs. It works well for all skin type, instead of moisturizer or as an addition. Can be used at night time.

Combine it with a gentle face massage right before you get into bed. The lovely aroma is very relaxing, provoking pleasant feelings and positive thoughts. Made with love, so you can give love... to yourself and your skin.

For Blog Readers Only!
Superfood Oil Serum with 40% Off

BLOG-READERs-ONLY
**Use 'BLOG-READERS-ONLY' coupon code at the checkout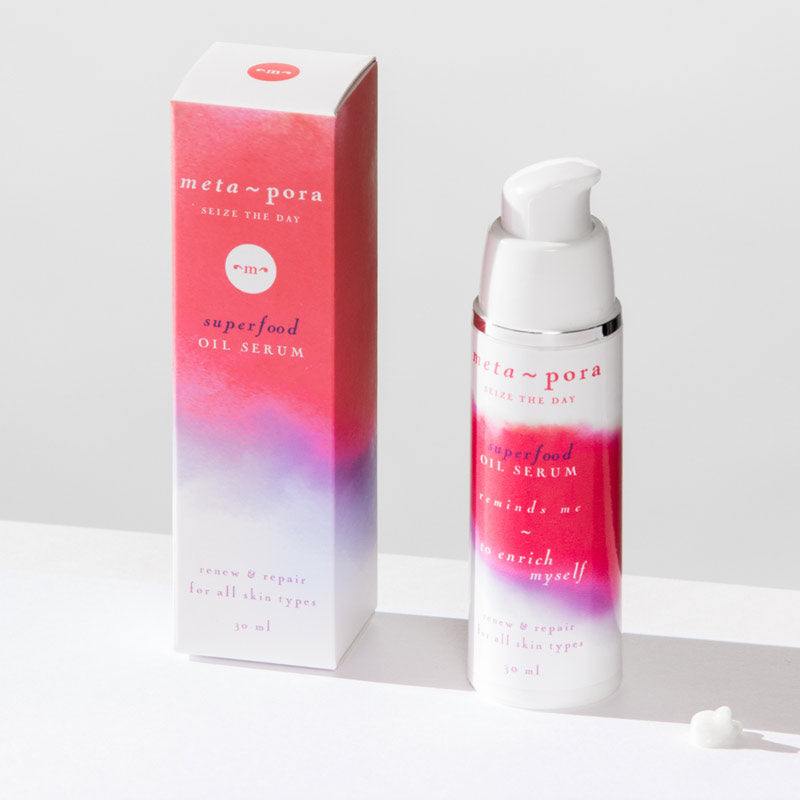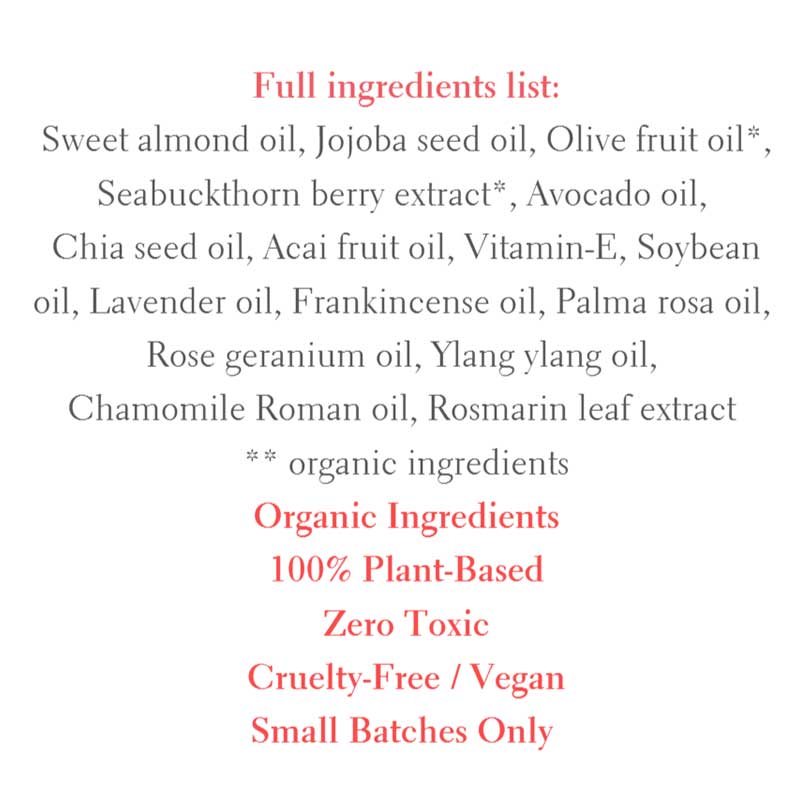 ● Can you put essential oils directly on your skin?
Always mix with carrier oils to avoid irritation. Usually the ratio is 2 drops of essential oil to at least 1 tablespoon of carrier oil.
● Is it safe to ingest essential oils?

Essential oils are not safe to ingest. It can cause poisoning and burning even in small amounts. Use externally only with precaution.

● Does essential oil have expiry date?

Essential oils do not expire and do not grow mold. But they are loosing theirs therapeutic properties if kept too long. So the best follow the expiry date stated on the bottle for the best results.

● Does essential oil contain alcohol?

Essential oil is a pure form of 100% plant-based product and should not contain anything beside the one main flower it was derived from.
● Does essential oil evaporate?
When an essential oil is exposed to oxygen it start evaporating, therefor make sure you close the lid after every usage. Frequent and prolonged contact with air will deteriorate the oil. Make it is not overexposed to oxygen.

In Conclusion:
What is your favorite oil for wrinkles?

In conclusion, the essential oils are nature's gift and an excellent addition to any beauty routine. It's also a perfect choice (and sometimes the only choice) for anyone sensitive to chemicals in beauty products or wants to avoid them at all.

Use it daily to boost and maintain your skin health. Experiment with different combinations of essential and carrier oil to create the formula that works best for your unique skin needs. Good luck, and please share your recipe below in the comments.